Exceed the standards of eLearning content creation with powerful new Author eBook features, extended management capabilities, and major performance and responsiveness optimisations.
New MercuryBook responsive design package
Avallain Author Release 34 brings one of the most anticipated new features for users, introducing the fully responsive eBook design package, MercuryBook.
The implementation of this new design package further extends the capabilities of the learning content created in Avallain Author, making Author eBooks fully responsive and compatible with any touch device such as tablets and phones.
In this way, Author eBooks gains even more ground in the eLearning field, offering full functionality and flexibility in responsive learning environments and platforms, such as our highly rated platform Avallain Magnet and the powerful Avallain Unity.
Structures generated from Author eBooks
Author eBooks continues its development and expansion of capabilities by now offering the possibility to create structures in Avallain Author from the eBook content.
With this new functionality it is possible to automatically generate courses from Author eBooks by creating a structure based on the eBook content. This structure can then be published on platforms compatible with Avallain Author structures, such as Avallain Magnet and Avallain Unity.
How does it work?
When creating or editing a structure in Avallain Author, it is now possible to select the Fetch eBook option, located at the top right of the screen. Thanks to an intuitive menu, you can easily choose the eBook from which to generate the structure.
Structures created from an eBook read the table of contents and automatically generate folders that reflect the pages referenced in the table of contents. All LOs, audio files, and videos in the eBooks that use hotspots will be included in the respective folder of the structure in the order in which they appear in the eBook.
At the end of the process, the structure can be published directly or downloaded, in the same way as any other structure created in Avallain Author.
Note: In order to enable this functionality to work correctly, make sure to set the Structure metadata value to "Key+value pairs only" in the Metadata tab in Project Settings.
Watch how to generate structures from Author eBooks
Visual and functional optimisations for locked options



Avallain Author Release 34 comes with visual and functional enhancements for locked options to provide further information to users and further streamline content creation and editing management at the project and LO level.
Options locked by Content Profiles
As part of the improvements made, now if an option has been locked due to a default content profile setting, it will display a red lock icon. Users will be able to hover over the icon, and it will display a tooltip with a detailed explanation of why the option is locked.
In case a default content profile has not been selected, users will also be able to see in the tooltip the current value of the option in the project settings.
Locking options in the Project Settings
Starting with Avallain Author Release 34, those options locked in the Project Settings will show a grey lock, making them easily distinguishable from options locked by a default content profile.
In addition, when locking options from Project Settings, a dialogue box will appear informing users that this will not change the option in existing LOs.
Locking options while using the Apply dialogue
Furthermore, it is now possible to lock options from the Apply dialogue in Project Settings by enabling the checkbox "Lock option to this value", located to the right side of the screen.
Note: Options already locked will not show this checkbox.
New "Asset bulk edit limit" setting



Avallain Author Release 34 further enhances the efficiency of asset management in the Media Library. To this purpose, a new Admin setting called "Asset bulk edit limit" limits the number of assets that can be edited at the same time when using the bulk asset metadata editor.
By defining a limit to the number of bulk editable assets, possible performance issues for the user, which can occur when editing large numbers of assets at once, are prevented.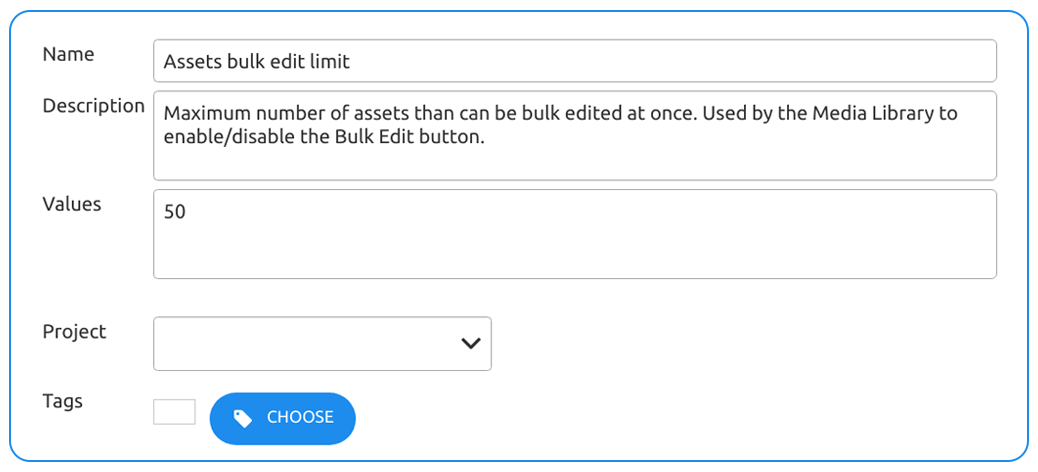 LO Option Close After Submit now works with Submit and Send Scores buttons



As part of the further enhancements to arrive along with Avallain Release 34, the LO Option Close After Submit, which already works with the Submit button, has been extended to work with the Send Scores button, as well. Close After Submit now works the same with both buttons.
So, just as with Submit, if Send Scores is clicked, the LO will be submitted and the scores sent, and then the LO will close.
Note: Remember that this functionality cannot be previewed in Avallain Author.
A new line weight selector can be added to Global Option Annotation Tools



Avallain Author Release 34 extends the options available in the Global Option Annotation Tools: it is now possible to include a line weight selector for the pen tool.
Note: To enable these updates on the Annotation Tools Global Option, it is necessary to make adjustments to the Design Pack. For more information, please refer to the User Guide or contact our Customer Success Team.
Further responsiveness compatibility with Activity Classes



Avallain Author Release 34 introduces optimisations to responsive design packages, extending their compatibility and performance to Activity Classes Identify:Mark:Wordsnake (Activity Type Wordsnake), as well as to Identify:Select:Linking Lines (Activity Type Linking lines), and Identify:Select:Linking Multiple Lines (Activity Type Linking Multiple Lines):
Identify:Mark:Wordsnake ( Activity Type Wordsnake) contains now a resizeable canvas on which the wordsnake is displayed.
Identify:Select:Linking Lines (Activity Type Linking lines) and Identify:Select:Linking Multiple Lines (Activity Type Linking Multiple Lines) have been further optimised with a new configuration option to allow design packages to override the option "Link Behaviour". Now it is possible to enable "Touch" behaviour for touch-screen devices and "Drag" for others.
New design package compilation process



To further enhance the performance of the system and the user experience, starting with Avallain Author Release 34, design packages are no longer automatically compiled as a background operation with Preview.
Now, design packages will be manually compiled on the Design Packages page using the Compile action button. This allows the Admin user to update design package tags and compile in the same place.
This change will significantly improve the performance of Avallain Author when previewing an LO, especially for design packages with a long chain of inheritance. Now, when users preview an LO, no automatic compilation will take place and, with this, LOs will no longer be blocked by this process, ensuring no delays and further improved performance and reliability for editors.
There are additional features for Customised Design Packs. When Admin users click Compile, the dialogue will show a list of projects containing customisations. Users can then choose to compile some, all or none of the customisations. If customisations are left uncompiled at this point, then the system will notify when a new version is ready for compilation by showing a notification on the Work packages screen of those projects. Depending on the user's role, the following applies:
All standard and customised parent and children design packages can be compiled by Admins from the Design Packages page, using the Compile button to the right of the screen.

Project Managers can only compile customisable design packages, by clicking on Customisation in the Design Package page, and after validating any customisation made to the design package.
New validation feature in Design Package Customisation



As part of the newly established compilation process, Avallain Author Release 34 introduces a new feature with which the Design Package Customisation option validates all custom CSS code added to the design package.
With this new functionality, the system will detect and notify the user of any error in the code, including the line where it was found, giving users the possibility to quickly and easily resolve the issue.
Once the CCS code has been validated and saved, users can compile it and see it reflected on the design package.
Watch how to validate and compile custom design packages as a Project Manager
Share with us your ideas on how to make Avallain Author even better